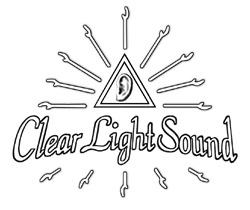 VIDEO

ClearLightSound offers high definition videography and editing.
These projects can be output to various types of media for distribution on the web (YouTube, Vimeo, etc.) and via hard media such as DVDs, flash drives.
Please refer to the Rates page for a complete listing of prices.
DIGITAL VIDEO AND AUDIO
1080 High Definition resolution videography
In studio/live remote simultaneous professional audio recording of videography sessions. These will later be synchronized for outstanding video and audio clarity.
Video editing in Final Cut Pro, audio editing in Digital Performer.
REMOTE VIDEOGRAPHY AND RECORDING
Videography at any location.
16 channel multitrack with full 24 bit digital recording
From instructional videos to seminars to workshops to small combos to large orchestras and choirs, CLS can do the job.
VIDEO TO DIGITAL CONVERSIONS
AVC, Mini DV or analog Hi8, VHS or VHS-C video transfer to digital formats
Transfers from original media to digital format include clean-up and enhancement of audio files.
Standard and HD format DVDs with menus
Customized graphics for DVD covers and labels
CONCERT PERFORMANCES, WEBCASTS AND VIDEO SHOOTS
Live performances, interviews and streaming video webcasts.
ClearLightSound's studio can be used for elaborate, high definition video shoots.
Studio quality audio and video recording subsequently transferred to CD, DVD or for web based distribution.
Services include posters for events and other marketing strategies
Please call 204-783-7707 about availability and rates
VIDEOGRAPHY LINKS
To view some of ClearLightSound's video projects, click the play button on each of the links.
.

©2003-2018 ClearLightSound